Arum italicum 'Pictum'
Garden Plant Information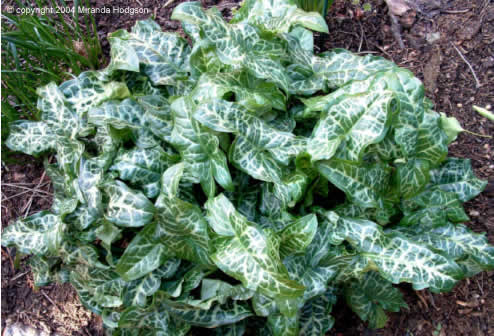 Name
Arum italicum 'Pictum' (also called Lords and Ladies)
Genus  
Arum
Species
italicum
Cultivar/variety
'Pictum'
General description
Tuberous perennial grown for large glossy spear-shaped leaves in spring and vivid red berries in autumn.
Season of interest
Attractive leaves in spring and berries in autumn
Key horticultural features
Clump forming perennial. H: 30cm, S: 20cm.

Leaves – large, glossy, spear-shaped on upright stems. Dark green with cream marbling.

Flower – pale green/cream spathes surround a pencil-shaped spadix of tiny flowers.

Spadix develops into a stem clustered with berries which start green, gradually turning to bright red.
Cultural details
Aspect
Shade to partial shade.
Soil
Moist, well drained.
Hardiness
Hardy
Maintenance
Divide in early autumn in necessary. Generally disease and pest free.
Propagation
Divide plants, or propagate by seed, in autumn. As clumps mature they may self seed.