Chionodoxa forbesii
'Pink Giant'

Garden Plant Information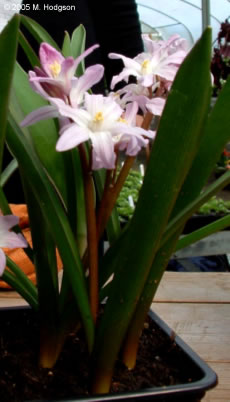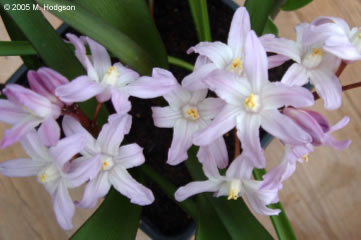 Name
Chionodoxa forbesii 'Pink Giant' (also called Glory of the snow)
Genus  
Chionodoxa
Species
forbesii
Cultivar/variety
'Pink Giant'
General description
Pink flowered, spring flowering bulb. Useful for rockeries and growing under trees. Makes a good early spring display as the flowers can last for up to a month.
Season of interest
Pink flowers in spring.
Key horticultural features
Upright habit, H: 15cm, S: 20cm

Thick, strap-shaped upright, green leaves with bronzy coloured bases.

Flower stems – straight and round, mid-brown.

Flowers – upward facing, six-petalled, pink with white centres. Flower shape is flat with well spread petals.
Cultural details
Aspect
Sun or partial shade
Soil
Well drained.
Hardiness
Fully hardy
Maintenance
Top dressed with leaf mould or garden compost in autumn.
Propagation
By seed in autumn or division in late summer/autumn.