Aster amellus '
Blue King'

Garden Plant Information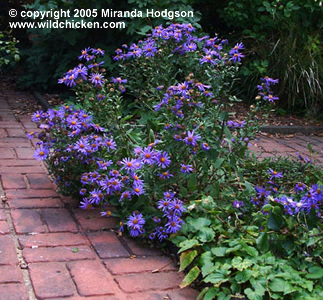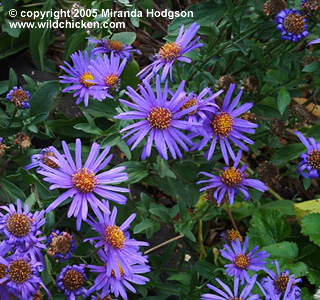 Name
Aster amellus 'Blue King' (also called Michaelmas daisy 'Blue King')
Genus  
Aster
Species
amellus
Cultivar/variety
'Blue King'
General description
Herbaceous perennial with blue-lilac daisy-like flowers. Asters provide a splash of colour in autumn when many other plants have finished flowering. They are good for cutting. Reputed to be rabbit resistant. Attractive to bees, flies, beetles, moths and butterflies.
Season of interest
Flowers in late summer to autumn.
Key horticultural features
Upright, but fairly lax habit. May need support. H 30cm S 46cm

Leaves – mid-green, rough, oval.

Stems – straight to lax, round and green, sometimes a hint of red-brown.

Flowers – single, many-petalled daisy type flower. Blue-lilac petals, yellow centres.  
Cultural details
Aspect
Prefers sun but will succeed in partial shade.
Soil
Well drained, moisture retentive.
Hardiness
Hardy.
Maintenance
Water regularly in summer. Deadhead to prolong flowering. Cut back to ground level after flowering and apply a generous mulch of compost. A. amellus is prone to damage by slugs, snails, aphids and mildew.
Propagation
Clumps can be divided in autumn or in spring. Sow seed in spring. Germination can be improved by chilling.