Lavandula stoechas
subsp

. pedunculata
Garden Plant Information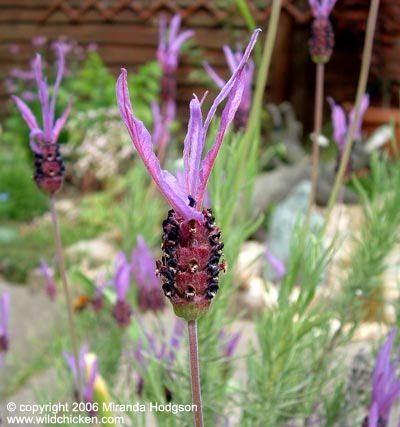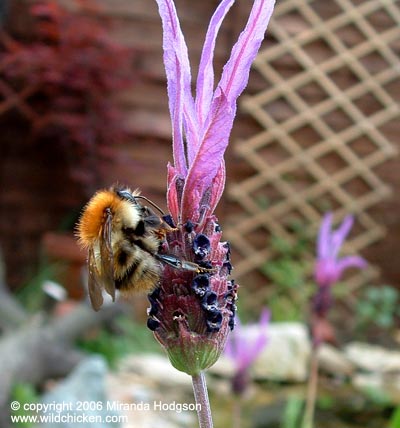 Name
Lavandula stoechas subsp. pedunculata (also called French lavender 'Papillon')
Genus  
Lavandula
Species
stoechas subsp. pedunculata
Cultivar/variety
General description
Borderline hardy evergreen perennial with scented leaves and flowers. This is a fairly early flowering lavender - it flowered mid-May here in 2003 - and although it's said to be borderline hardy it's survived well outside in our garden, in a sheltered spot with well-drained soil. In colder areas it can be planted in containers, which can be moved under cover for the winter.
The long bracts that top the flower spike are said to resembled butterflies (hence the name 'Papillon') but they always make me think of hare's ears. Planted next to path ways, the scent will be released as you brush against the foliage. Useful for cutting, drying, containers, rockeries, wildlife and drought resistant gardens. The oil is also much used in perfumery and aromatherapy.
Very attractive to bees and moths. It also seems to be attractive to starlings collecting material for their nests. When I put in a new plant, a couple of years ago, I watched a starling nip off every single new bit of foliage and carry it away. The plant recovered well and I suppose the starling had a pleasantly scented, possibly pest-free, nest.
Season of interest
Flowers in spring and summer. Scented foliage all year round.
Key horticultural features
Habit - bushy, evergreen. H&S: up to 1m.

Stems - lower stems are woody and rough. Flower stems are straight, slender and grey-green.

Leaves - narrow, grey-green, smooth edged, scented.

Flowers -  small, scented, violet flowers borne on long-stalked, dense ovoid heads, tipped with large pink-purple bracts.
Cultural details
Aspect
Sunny and sheltered.
Soil
Well drained, reasonably fertile. Its fragrance is reputed to be best when grown on chalk soils.
Hardiness
Half/borderline hardy. Shelter from cold winds.
Maintenance
Cut back after flowering, avoiding cutting into old wood, as it does not readily regrow from old wood.
Container plants need regular watering in summer and those planted in the ground should be watered until established.
Propagation
By seed or semi-hardwood cuttings in mid to late summer.