Exochorda giraldii
var.

wilsonii
Garden Plant Information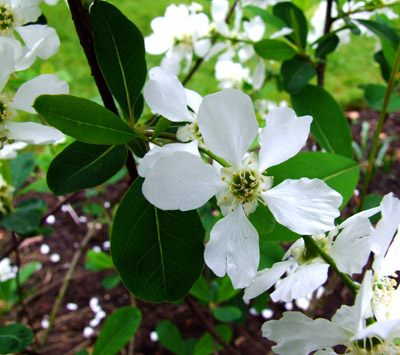 Name
Exochorda giraldii (also called Pearlbush)
Genus  
Exochorda
Species
giraldii var. wilsonii
Cultivar/variety
General description
Hardy deciduous flowering shrub, with arching branches, bearing masses of white flowers in spring. This shrub is easy to grow and brings welcome brightness when it flowers in spring.
Season of interest
Flowers in spring, green foliage from spring to late autumn.
Key horticultural features
Habit - arching, slightly lax. H&S: 3m.

Stem - slender, smooth, woody. The young growth shows some pinkish tinges.

Leaves - mid-green with pinkish tinges on young leaves, simple, oval, pale veins and pink tinged petioles. Up to 8cm long.

Flowers - borne in late spring, open, 5 petals, bright white, up to 5cm across, with clearly visible yellow stamens.
Cultural details
Aspect
Full sun to partial shade.
Soil
Well drained, moisture retentive, prefers a deep, non-chalky soil.
Hardiness
Fully hardy.
Maintenance
Cut back to strong buds after flowering. On established plants, cut back about a third of the older stems to promote new growth.
Generally free from pests and diseases.
Propagation
By softwood cuttings in summer or seed sown in spring or autumn.