Potentilla thurberi
'Monarch's Velvet'

Garden Plant Information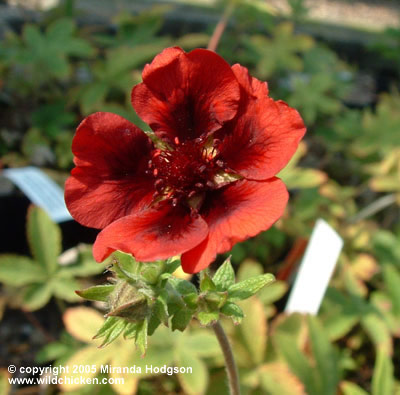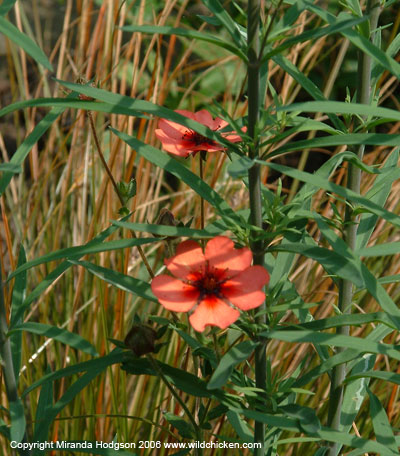 Name
Potentilla thurberi 'Monarch's Velvet' (also called Cinquefoil)
Genus  
Potentilla
Species
thurberi
Cultivar/variety
 'Monarch's Velvet
General description
Deciduous, clump-forming, herbaceous perennial grown for divided foliage and long stems of rich red flowers. Useful for ground cover and growing amongst other perennials and shrubs, especially where shorter lived plants, such as some bulbs, may die back after flowering. Although this plant isn't so attractive when planted alone, it mingles extremely well with other perennials and the shorter ornamental grasses. Attractive to bees.
Season of interest
Quite a long season, with flowers from early summer to the first frosts.
Key horticultural features
Habit - low growing. The central plant is mound forming and sends out long flowering stems. H: up to 30cm S: 1m.

Stems - lax, round, hairy, green tinged with dark pink.

Leaves - lobed and serrated, like a strawberry leaf. Mid-green.

Flowers -  cup-shaped, 5-petalled flowers in rich crimson, darker towards the base. Flowers are borne on long lax stems, either solitary or loosely clustered. The flowering stems have a habit of leaning against other plants and using them for support so that the flowers can appear up to 1m from the ground.
Cultural details
Aspect
Does best in full sun.
Soil
Well drained, light, can tolerate moderately poor soil.
Hardiness
Hardy.
Maintenance
Divide plants in spring or autumn. Cut back in spring. Generally pest and disease free.
Propagation
Divide plants in spring or autumn or sow seed in spring.